Hey I wanted a write a quick post on some really awesome tools out there for special effects (FX). If you find yourself in a hurry to get some effects out here is some software that will help. You can use these effects for movies, games, whatever. I'll probably add more to this list at a later date.
Free, beautiful, 2,000 effects you can play with for free. The downsides to this software is it only renders to video (.mov & mp4) so for other projects you may need to convert for example to spritesheets for games or low end machines/devices. Converting from video to gif is really easy too so that's another thing you may need to try later on.

It can export to 8k though so if you need something high end, this baby can make you some really nice effects fast.
I found this nice video that introduced me to this software and I think he did a good job covering it in 15 mins.
Works particularly well with sprites, you can quickly add a smear animation to anything. Because this software was (I very much assume) created in Gamemaker it has it's limitations but I still think it's a fun tool on it's own.
This guy makes a ton of fun animation software and I recommend his other projects.
Great for particular animations common in games (Flash, Scale, Skew, Shake, Wobble, Jump, Wave etc), you just load an the image or images and with a few sliders can quickly export a finished animation.
Lots of fun effects and it exports as a spritesheet for easy use. Man WordPress struggles with gifs.. Check the Juice FX page for more.
---
I thought I'd throw in a particle effect to spritesheet tool because Unity is great for creating particle effects. If you ever want to use them outside of Unity or have a particle effect within another particle effect then spritesheets is a easy way to do that.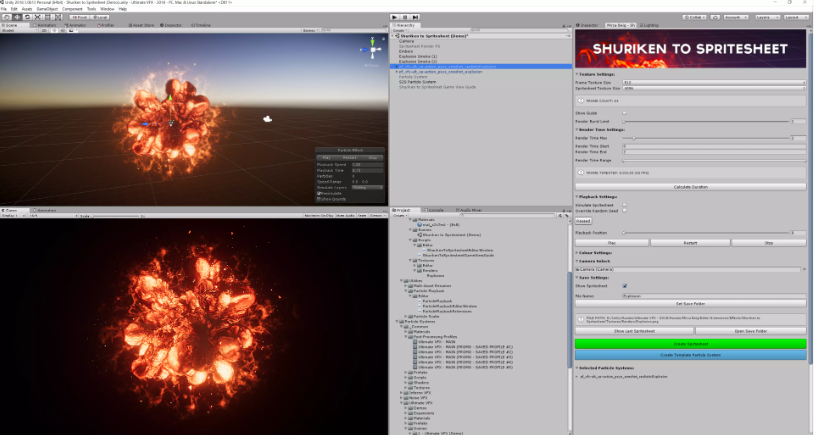 Now of course you can use other software like Blender, After Effects, or more complicated tools but if you want something fast for FX these tools will really help.